One such tool is face filters. Now every company can create its own mask or launch a full-fledged application, using the capabilities of face filter SDK. In this article we will try to understand whether it is better to create your own mask or to launch a full-fledged application. Both options have different pros and cons
What are AR filters: the main information
From the user point of view, AR filters are a funny, cute or unusual mask, which he can see in a popular social network, a special application, in a photo or video of others. But for business representatives, such masks are a very powerful tool. Therefore, in order to use them competently in the construction of a marketing campaign, it is necessary to understand the principles of their work.
So, let's look at how AR face filter works:
First, there is a "reading" of the face. This becomes possible with the help of artificial intelligence. It can not only recognize a person's face, but also carry out its segmentation, that is to select individual parts and subsequently interact with them.
After that, the mask itself is applied. For example, it can change the appearance or in some way complement the frame (captions, "clouds" with thoughts, flying objects, animation effects and much more).
If we talk about the technical point of the question, there are several options for the developer to create his own filter. The main ones are mentioned at the beginning of the article - launching your own software solution or just creating a mask and then integrating it into some social network.
Which one of these options is better? Now let's try to figure it out.
Creating one or more filters with a special software attracts many people because it seems to be much easier. In fact, it takes time to create a really good mask, too, but it's still much less than running a full-fledged software tool. This tool is great for those who want to become more popular via social media. Many popular companies such as YSL, Dior and others are actively using this tool. So to get started or to see if it's possible to attract your audience with filters, it makes sense to create one mask and upload it to Instagram like so many users have already done.
As for launching your own software, this tool is not as complicated as it seems at first glance. There are face filter SDK that can be taken as the basis of the solution. Many brands operate in this way. In this way, using actually ready and tested program code, it is enough to spend a little time for its subsequent adaptation. If you clearly understand that your potential customers may respond to it, it is worth trying to launch your own software solution.
Let's take the story of Mental Growth as an example. When it decided to launch one of its new products, the question arose of developing its own software solution. So they decided to launch FaceYoga. This software was developed based on the Banuba Face AR SDK. The essence of the project was that users had the opportunity to see what their facial skin would look like after regular face-fitness sessions.
The app was downloaded by over 20,000 unique users in a fairly short period of time, which was a good result for the brand. At the same time, it received a score of 4.2 on the AppStore. As a result, business owners noticed that customer loyalty had significantly improved, and interest in the company's products and services had grown. After that, brand owners started to wonder how else they could use the power of artificial intelligence for their own purposes!
The question that arises is whether everyone needs the app and whether everyone can repeat the success of this company. There is no definite answer here. To understand which tool is better for you, a simple mask or a full-fledged software solution, it is necessary to analyze your target audience, determine their needs and see what tools your clients turn to more often.

How to use AR filters to promote business: experience of top companies
Despite the fact that many companies already actively use masks for their promotion, there are entrepreneurs who still do not understand why this tool is so unique. Let's try to figure out what opportunities the filters can offer you and How to use AR filters:
Increase brand awareness. All sorts of masks easily become popular and even "viral", their existence is quickly recognized by a large number of people. This helps to attract new customers and interest old ones.
Improving the relationship with the audience. Most users do not perceive masks as advertising in the literal sense of the word, which is quite good for entrepreneurs. By giving users the opportunity to be entertained (for many people masks are really just entertainment), you get their trust and love in return.
In addition, when analyzing the usefulness of this tool, you should understand another point: people always perceive visual images better than textual content. Let's remember for example the popular beauty masks. For example, you can often see them on the pages of brands that sell cosmetics. Some companies offer their users to see how they will look with this or that makeup, others offer to see the improvement of the person's facial skin after regular use of the cosmetic brand. Almost all companies that have used this tool unanimously claim that it has led to improved audience loyalty, increased sales. It's a great tool for promoting a new product.
For example, let's look at a successful project implemented by the company Looké. It is a brand which specializes in the production of cosmetics, especially niche cosmetics. They launched their own software tool, which allowed not only to "try on" makeup made with their products, but also to see where to buy them. Also, you can find recommendations on how to choose a cosmetic product and reviews from other girls in the app. As a result, in a fairly short time, more than 50,000 users installed the application, which can be called an amazing result. The interest for the brand and the sales have increased.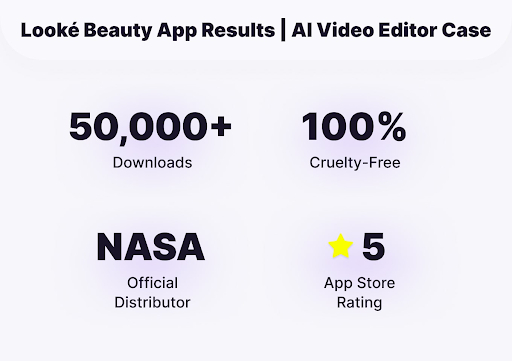 Conclusions: choose between developing a separate software solution or create your own filter
The first thing worth highlighting is the cost of the work. If we are talking about the development of a full-fledged mobile application, you should also understand that it will take much more time to implement the idea. It may be necessary to involve third-party specialists and developers. But at the same time, the application looks more respectable and can potentially be more appealing to customers. This solution will be an excellent choice for large companies and well-known brands.
That said, you shouldn't give up on standardized solutions. As a rule, they are much easier to implement and do not require too much time. But they help to interest users quickly. They can be a great decision for those situations when it is necessary to attract the attention of customers as quickly as possible.